Cloud Wi-Fi Platform

For Managed Service Providers & Broadband Carriers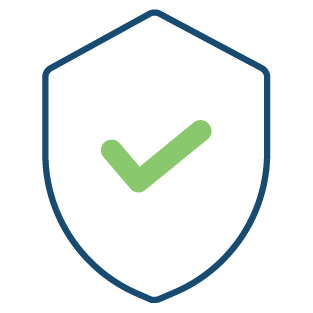 Proven & Robust Solution
Carrier-grade performance
Scales to millions of connections
Secure, private & compliant
Network infrastructure agnostic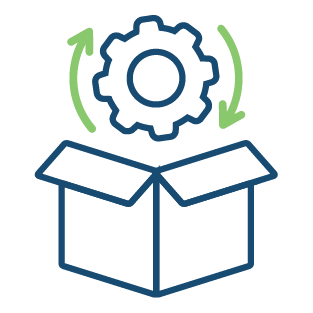 Easy Deployment
Rapid onboarding
Self-service
Simple management
Fast customer provisioning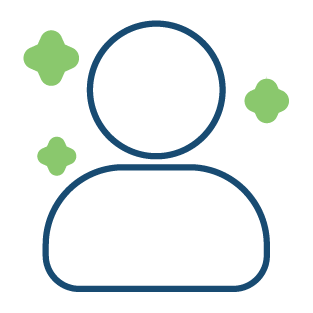 Personalised Experiences
Tailored for vertical industries
Brandable captive portal
Choice of authentication methods
Data capture and analytics
Exceptional Connectivity. Designed for Simplicity
We understand the pressure to deliver high-performance public Wi-Fi services quickly, to keep pace with demand.
Trusted WiFi is a new, self-service Wi-Fi platform for MSPs and broadband carriers. It's been designed to quickly launch personalised, multilingual carrier-grade connectivity in minutes (literally), using any vendor hardware. It's suitable for any end customer, from small independent organisations to large multisite brands like cafes, stores, offices, outdoor spaces and other places.
 The cloud-based Wi-Fi platform been designed by our experts to include a branded captive portal, a choice of authentication methods, anonymised data capture and analytics, hardware support and management from a single dashboard, reducing costs and time-to-market.
GlobalReach is known for delivering large-scale, carrier-grade connectivity across a massive range of complex operating environments. Trusted WiFi can scale to support thousands of services for your customers in retail, transportation, enterprise and other verticals.
"Designed for MSPs and broadband carriers, to launch Wi-Fi services quickly for their customers. We simplified the core elements of our established GlobalReach Wi-Fi management platform, making it available as a self-service, cloud-based solution."
Sara Lupori, Chief Product Officer, GlobalReach Technology
Benefits
Carrier-
Grade
Deliver high-performance Wi-Fi services that scale & support content.
Branded,
Customisable
Create personalised, multilingual experiences for any customer.
Rapid Self-
Service
Pre-configured templates for deployment, setup & onboarding.
Hardware
Agnostic
Use any Wi-Fi vendor hardware. No infrastructure removal.
Private &
Compliant
Your brand.
Your terms.
Your customers.
Your data.
Trusted
Provider
Established supplier to major carriers & service providers.

Captive Portal
Choice of 3 pre-configured authentication methods
Choice of 3 brandable responsive designs
Customisable by 9 major languages
Optional content filtering
Read Blog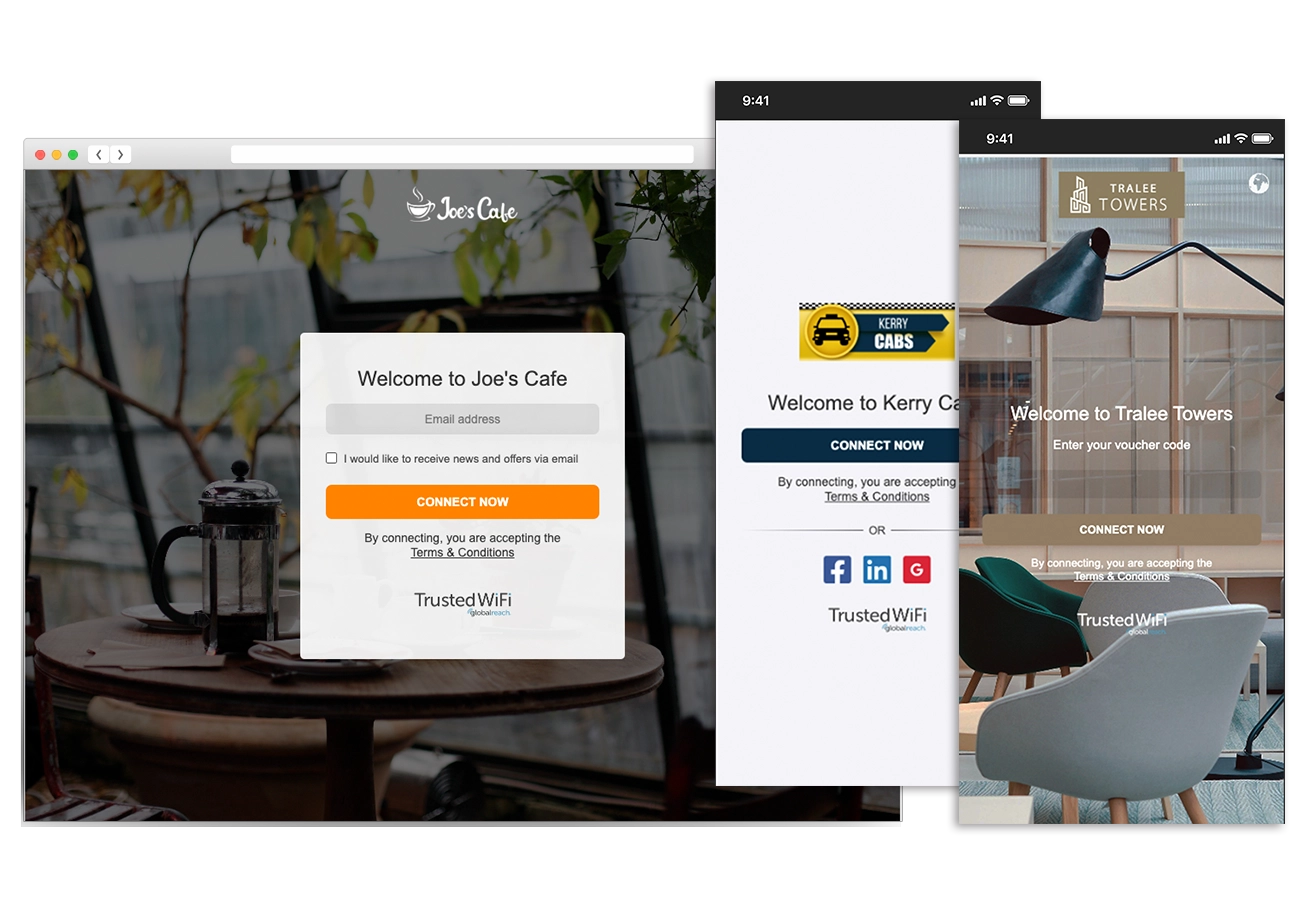 Hardware Agnostic
Nomadix Gateways
Ruckus Networks
Cisco Meraki
Cambium Networks
Aruba Instant On – more being documented
Ask about your Vendor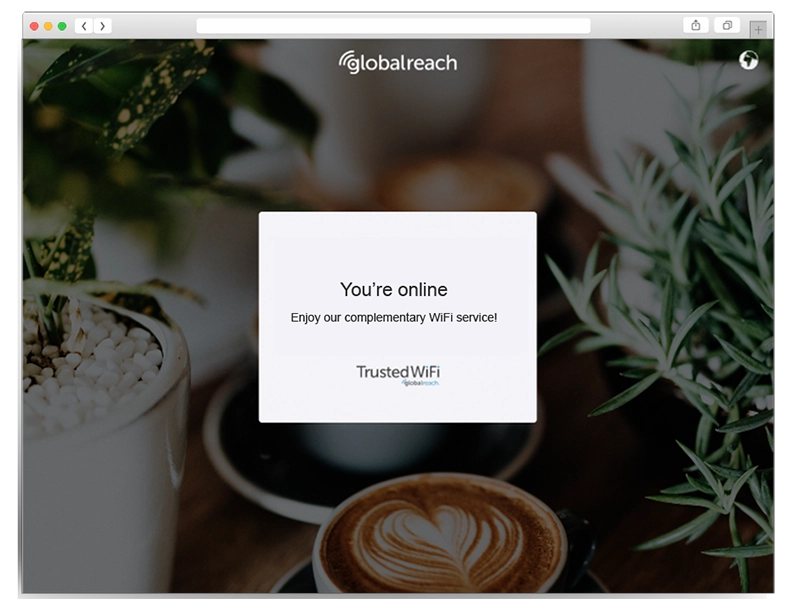 Management
Configuration
Monitoring dashboard (user & session data)
Analytics export options (.csv a& webhooks)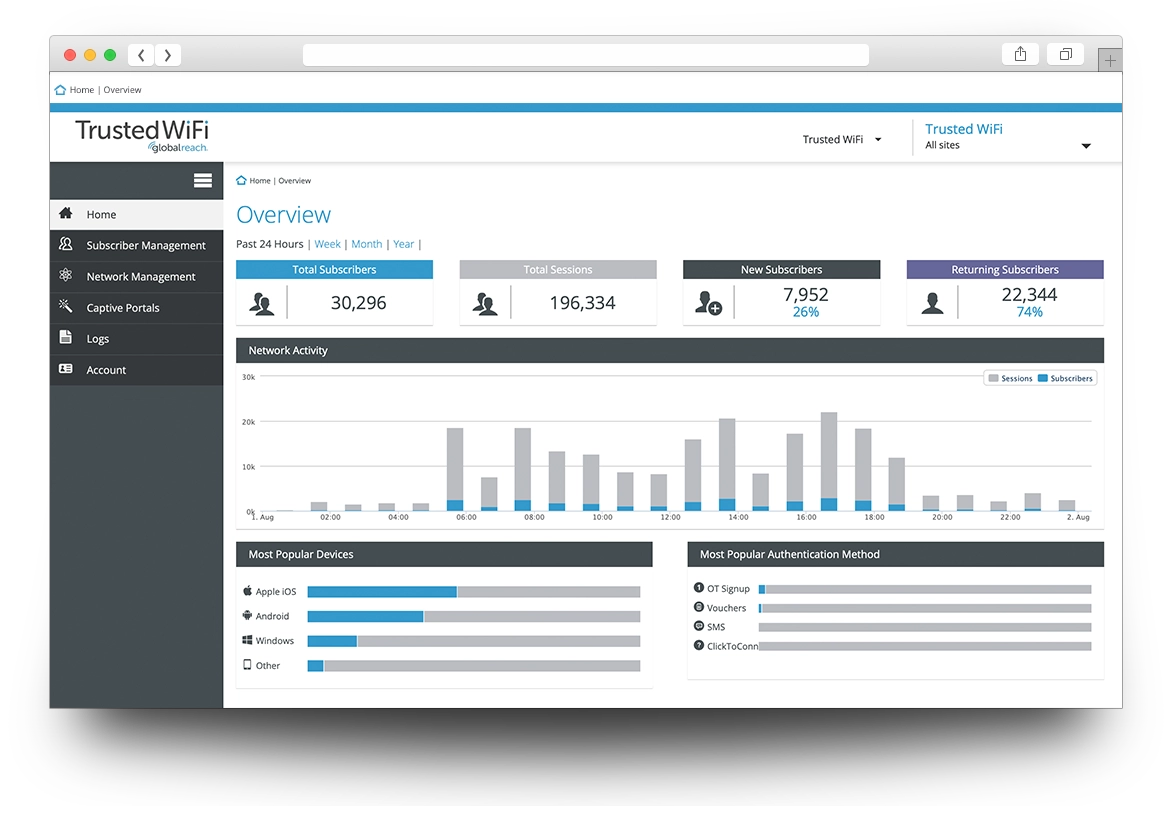 Wait! Still Want To Be a Trusted WiFi Partner?
Wait! Still Want To Be a Trusted WiFi Partner?
Deliver customised carrier-grade Wi-Fi services for all your customers
Join the major service providers already using GlobalReach.