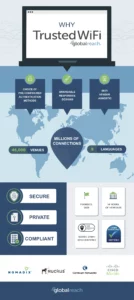 By Sara Lupori, Chief Product Officer, GlobalReach Technology
Trusted WiFi is our new self-service, hardware-agnostic cloud Wi-Fi platform for managed service providers and broadband carriers that want to take Wi-Fi services to market quickly for their customers.
We've taken elements of our core and established product, simplified it into a single dashboard and made it easy to use. Our customers can now build services themselves!
It includes everything they need to rapidly deliver services for multiple customers. It's so easy to use that they can brand captive portals,  set up user journeys, and launch Wi-Fi services over their existing infrastructure to get to market rapidly.
GlobalReach is known for its ability to deliver large-scale, exceptional connectivity across a massive range of complex operating environments. Most of our customers work in multiple verticals, often in multiple regions and languages. They need a central, location to manage services for all of these brands, which is why Trusted WiFi was designed.
The single platform can scale to support millions of connections, so it's a low-cost way for service providers to add extra services, putting portals in different areas and locations they need to cover.
From a hardware point of view, we know that our partners and brands already have existing relationships with Wi-Fi hardware vendors and know which infrastructure they will use. With a focus on easy deployment, Trusted WiFi can be plugged into their existing infrastructure to take advantage of the software services that we provide.
The product is built to be self-serve, so we wanted to design something that was easy for our partners to navigate and build services really intuitively.  We've also launched a support portal alongside the service, with lots of video content to follow. As you'd expect, we have a roadmap of further feature enhancements planned that we will announce as they roll out.