We're sharing a summary of the latest features and updates that are now available.
Captive Portal Scheduling
We've added a captive portal scheduling feature to our Wi-Fi management platform. Using this feature, a user can now define daily time periods during which authentications are allowed, and outside of which authentications are blocked.
Visitors that connect to the captive portal during the opening hours will see a normal authentication journey. When the portal has been closed by the venue owner, visitors will see a custom out of hours splash page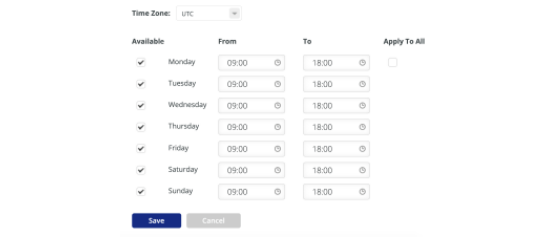 To implement, users can now add a tab to the portals tab. Access is controlled via a license feature.
Windows 10 Passpoint Provisioning
We're known for our Passpoint leadership, and we're excited to announce that end-users running Windows 10, can now use our Passpoint Online Provisioning (OSU) to install a profile to their devices.
Introduced in Windows 10, version 2004 in April 2020, users can now provision a profile for a Passpoint network (or for a normal network) giving them seamless and secure access when in range of Wi-Fi access points.
Captive Portal Terms & Conditions Time Limit 
We've added a new captive portal feature which allows you to set a terms and conditions time period. Where accepting T&Cs is mandatory, subscribers cannot authenticate on the Wi-Fi network without acceptance.
This new feature extends this functionality to allow you to define a time period after which a subscriber must reaccept the terms and conditions again. Subscribers that do not reaccept cannot authenticate
Two-Factor Authentication
Protecting your information and users is important. To safeguard PII, we have added two-factor authentication to our Wi-Fi management platform.
Once enabled, all admin users in an account must associate a virtual MFA (multi-factor authentication) device. On subsequent logins, admins will be asked for their username and password, and an authentication key from their multi-factor authentication (MFA) device.
The first redirect, from our platform to the two-factor gateway, takes place after the user has successfully logged in and if two-factor authentication is enabled in the license.
The second redirect, from the two-factor gateway back to the GlobalReach platform, validates all required items and ensures authentication.
Speak to us today to learn more.